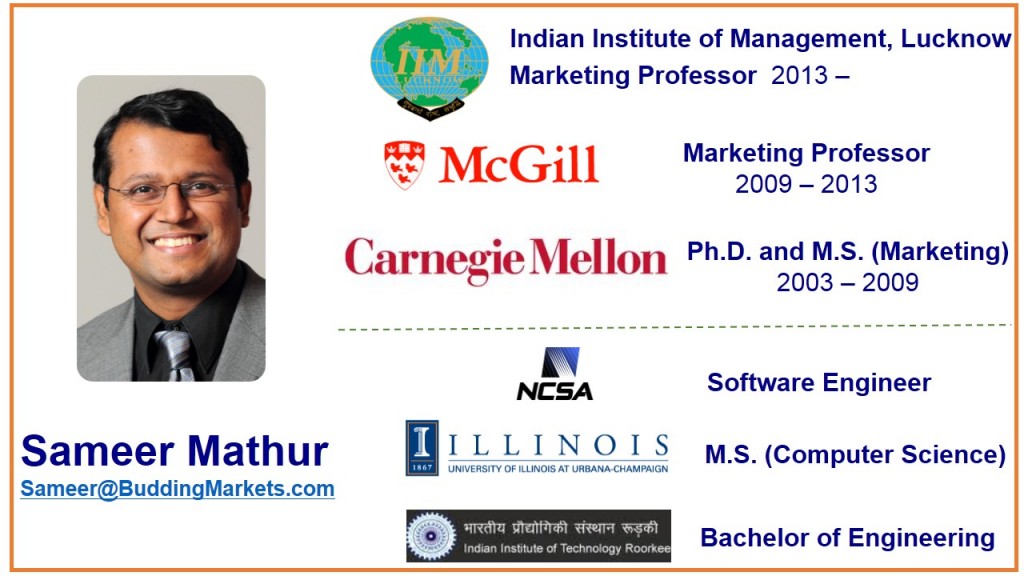 Welcome to my website!  BuddingMarkets.com links to presentations and blog posts related to Marketing, Branding and Strategy.
I am a teacher. I currently teach Marketing at IIM Lucknow. I teach core Marketing Management to 1st year MBA students and Brand Management to 2nd year MBA students specializing in Marketing. I have previously taught classes on Marketing Management, International Marketing, Management in Global Context at McGill University and Carnegie Mellon University.
I am a researcher. I apply Game Theory and Industrial Organization to model Marketing questions concerning Pricing, Promotions and Branding. My 2013 paper titled "Price Promotions in Emerging Markets" is available here.
I am a consultant. I am available to help companies improve their branding, pricing and promotion strategies.
I donate knowledge. I have distributed over 250 presentations related to Marketing and Strategy on http://www.slideshare.net/ProfessorMathur.
My presentations have been jointly viewed over 1 Million times from over 100 countries. Additional information and statistics are available on this page.